We Live to Sing!
Combine the soul and culture of the African-American experience, mix in over eighty voices; and you'll get the melodic sounds of the Ambassadors' Concert Choir. The Choir, a not for profit organization, is dedicated to bringing a variety of music to Oklahoma.
Who Are We
It is the Mission of the Ambassadors Concert Choir to provide an avenue of performance of vocal music that can be shared with a diversity of listeners, to present a composite message to the listening public.
Our purpose is to:
provide the opportunity for serious study and performance of music of all genre,
bring about a community awareness of and appreciation for music of all genre,
encourage the musical development of young students, and
promote workshops for strengthening adult musicians.
Thirty-three years later, our goals have not changed and our aspirations still center around presenting programming that will entertain, educate, uplift, and inspire. That's what performing is all about. It is another chance to come into the lives of citizens in the community (if only for a while) and take them on wonderful musical journeys to distant lands, exciting people, amusing stanzas, and inspirational messages.
Our History
The Ambassadors' Concert Choir has been thrilling audiences with its spirited musical offerings since 1979. The choir performs a diverse blend of music of all genre and many cultural traditions classical, spirituals, jazz, gospel, patriotic music, hymns, Broadway show music and popular music. The 75-100 member choir is predominantly African-American by nature, but people of all cultures participate and are welcomed.
The Ambassadors' are proudest of their tradition of giving glory and honor to God the Father, Son and Holy Spirit. Lives have been touched, spirits have been changed and hearts have been moved by the music of the Ambassadors' Concert Choir for over 30 years.
The Ambassadors of Faith Choir was founded in 1979 by Maestro Kenneth Kilgore as an extension of the music ministry of Saint John Baptist Church in Oklahoma City. Mr. Kilgore convened approximately 40 local singers and musicians to form a choir that would provide an opportunity to perform all types of sacred music at the highest levels of professionalism and musicality. The choir grew in size, professionalism and repertoire, adding singers and musicians from diverse congregations, faiths, ethnicities and socioeconomic backgrounds. The choir was incorporated as Ambassadors' Concert Choir in 1985.
The choir has performed throughout the United States and in Mexico. The Ambassadors' have provided music for the inaugurations of the past six Oklahoma governors, for the nationally televised first Murrah Federal Building Bombing Memorial (attended by then President Bill Clinton) and with such performing talents as Linda Twine, the Oklahoma City Philharmonic, Simon Estes, The Canterbury Choral Society, Thomas and Carol Bryce-Carey, Leona Mitchell and the International Organist Guild. The Ambassadors' Concert Choir was inducted into the Oklahoma Jazz Hall of Fame in 1992.
The Ambassadors' Concert Choir currently performs under the direction of Dr. Sandra Thompson, Music Professor at the University of Central Oklahoma, and is accompanied by a host of talented musicians and entertainers. The history of the Ambassadors' is continuing to be written.
Our Artistic Director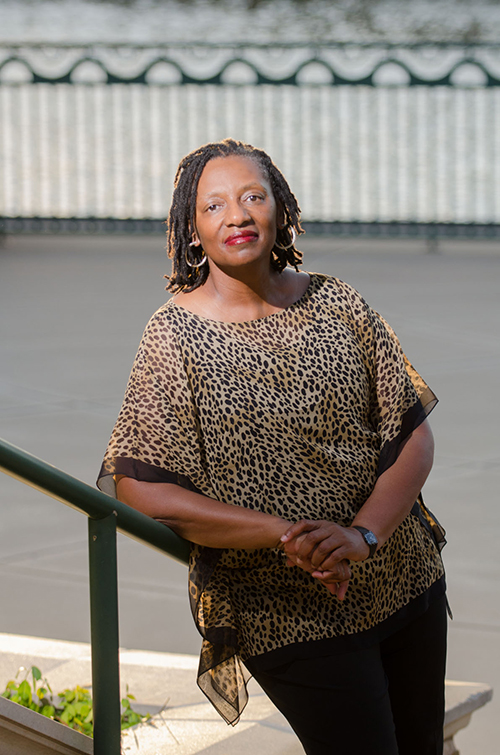 The Ambassadors' Concert Choir (ACC) is under the direction of Artistic Director, Dr. Sandra D. Thompson.
Dr. Sandra D. Thompson is a native of Ponca City, Oklahoma. Her musical journey began at the age of three years old and since she has continued to develop as a gifted musician. She graduated from Ponca City High School, received a B.Mus., Bachelors in Music from Oklahoma City University (OCU), a M.E.E., Masters of Music Education, from the University of Central Oklahoma (UCO), and a D.M.A., Doctor of Musical Arts Degree in Choral Conducting, from the University of Oklahoma (OU).
Dr. Thompson has taught in several Oklahoma Public Schools before joining UCO's School of Music faculty. Her teaching duties at UCO include: Fundamentals of Music, Music Theory and Aural Skills, Music for Elementary Teachers, Choral Conducting and Music Appreciation. Dr. Thompson is currently Associate Professor of Music and Division Head of Classroom Studies.
At UCO, Dr. Thompson has conducted several music theatre productions including: "The Man of La Mancha", "Into the Woods," and "Company" with some of Oklahoma City's best known directors. To add to her list of Broadway musicals, Sandra has conducted "High Society", "The Music of Andrew Lloyd Webber", and "The Sweet Smell of Success". At UCO's Broadway Tonight Series, she conducted "Flipside-The Patti Page Story at the premier and at the Off-Broadway premier. The New York audiences fell in love with the story of Patti Page. She has been the pianist for many productions at OKC's Lyric Theater and appeared in their productions of "The Wiz and "Kiss Me Kate".
Dr. Thompson has served on the Board of Directors for Allied Arts, The Gospel Music Workshop of America and The Oklahoma Center for Teacher Preparation. In addition to those roles, her professional affiliation include: American Choral Directors, Music Educators National Organization, Pi Kappa Lambda Music Society and the Delta Sigma Theta Sorority, Inc. She has also been recognized by "Who's Who Among American Teachers" and The Black Liberated Arts Center (BLAC) for Educating Future Musicians.
Dr. Thompson has been a member of the Ambassadors' Concert Choir for more than 25 years. She is also the Assistant Minister of Music at the Evangelistic Baptist Church of Christ in OKC.
Dr. Thompson became the Artistic Director of the Ambassador' Choir in 2010. As the choir embarks on its 39th Concert Season, Dr. Thompson's expertise and exceptional musicianship will lead the Ambassadors' to new heights of excitement and performance in the OKC community and beyond.